The bank account for tech-adddicts – 1822MOBILE mobile bank account
Booking tickets, checking the train schedule, chatting with friends… With your smartphone you are organizing your everyday life. So why would you use an oldschool offline bank? In the German bank account comparison I had already presented you the app-based bank account from N26.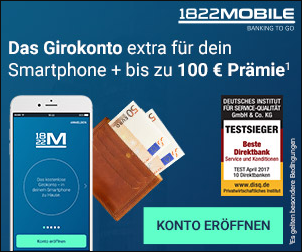 Now there's a new player on the market called 1822MOBILE. The "Frankfurter Sparkasse" (Frankfurt savings bank) stands behind 1822direkt who offer the 1822MOBILE bank account, an app-only bank account without classical online banking. But to be honest… who needs online banking when you can manage your finances conveniently on your smartphone? The 1822MOBILE account has no monthly or annual fees and comes with a contactless debit card (Girocard) and a contactless VISA credit card free of charge. With the debit card you can withdraw cash free of charge at any Sparkasse ATM in Germany. And believe me Sparkasse ATMs are everywhere in Germany, even in small villages… With the 1822MOBILE VISA card you can withdraw cash worldwide free of charge outside of Germany.
The app has some really nice features like push notifcations whenever a transaction is processed or photo bank transfers – take a picture of an invoice with the app and a bank transfer is generated automatically! Furthermore the 1822MOBILE app allows you to integrate other bank accounts so that you can check your account balances easily in one app.
[SPECIAL PROMOTION]: Get a 50 EUR shopping voucher from 1822MOBILE!
1822MOBILE currently has a special promotion: If you open your 1822MOBILE bank account until September 27th you will get a 50 EUR BestChoice shopping voucher. The shopping voucher can be used in many shops such as zalando, iTunes or IKEA. Here is how it works:
Open your 1822MOBILE bank account until September 27th, 2018

Perform at least four transactions (e.g. card payment, bank transfers, etc.) per month with a minimum value of 25 EUR/transaction until January 31st, 2019. You will then receive your 50 EUR shopping voucher on February 20th, 2019.
Sounds simple? Well it is… Just follow the above three steps and get your 50 EUR shopping voucher!
Here are the features of the 1822MOBILE bank account in a nutshell:
Completely free of charge (no monthly fees)
Free debit card and free credit card with contactless payment (VISA)
Free cash withdrawals worldwide
Open your account easily from your smartphone via VideoChat
App only available in German
Foreign transaction fee of 1.75% (VISA Card)

Open your 1822MOBILE account now!
---
Disclaimer: This post contains affiliate links, meaning I earn a commission if you use those links.st