[EXPIRED]: This offer is no longer valid. Please have a look at this updated post about the Barclaycard Visa.
50 EUR Sign-Up Bonus for Barclaycard New Visa Credit Card
Barclaycard doubles the bonus for the New Visa Card from 25 EUR to 50 EUR if you order your card in June. For more details on this credit card I recommend reading the article about the best German credit cards. Here's what you need to do in order to get the bonus: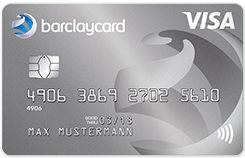 Order your card between June 1st and June 30th at Barclaycard (you have to be a new customer, i.e. not have had a Barclaycard in the last six months)
After receiving your card, use it within the first four weeks (i.e. pay with the card or withdraw money)
You'll receive your bonus after eight weeks
Sounds easy? It is!
Barclaycard New Visa with 25 EUR bonus
Here are the main features of the Barclaycard New Visa in a nutshell:
Completely free of charge – no monthly or annual fees
Cash withdrawal free of charge within the Eurozone
Easy ID verification via VideoChat
Foreign exchange fee of 1.99% for non-Euro payments

Get your free Barclaycard New Visa!
---
Disclaimer: This post contains affiliate links, meaning I earn a commission if you use those links.