Hanseatic Bank GenialCard – Visa credit card with 50 EUR sign-up bonus
Want to earn 50 EUR within a few minutes? Then get your GenialCard Visa credit card from Hanseatic Bank! The Hanseatic Bank GenialCard is a good choice as this Visa credit card is completely free of charge, i.e. no monthly or annual fees apply. Here's what you need to do in order to get the bonus: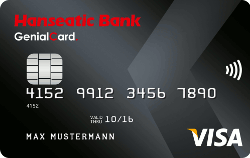 Order your GenialCard between February 13th and April 30th at Hanseatic Bank (you have to be a new customer, i.e. not have had a credit card from Hanseatic Bank in the last six months)
After receiving your card, use it within the first four weeks (i.e. pay with the card or withdraw money)
You'll receive your bonus after six weeks
Credit Card Germany Overview
Check out our comparison of the best German credit cards
Hanseatic Bank GenialCard with 50 EUR bonus
Here are the main features of the Hanseatic GenialCard:
Completely free of charge – no monthly or annual fees
Instant decision – you directly get feedback if your application has been accepted
Foreign currency fee of 1.99% for non-Euro payments
3.00% fee for cash witdrawals (minimum fee 5.95 EUR)

---
Disclaimer: This post contains affiliate links, meaning I earn a commission if you use those links.