Commerzbank VISA Prepaid Credit Card Germany
Didn't have luck with your credit card applications in Germany so far? Well… many banks are quite picky in regards to new customers especially when you're new in Germany and don't have a financial history here yet. So how do you get a credit card anyway? The answer is: get a prepaid credit card! The big advantage of prepaid credit cards is the fact, that usually your creditworthiness is not checked (i.e. no SCHUFA check). This is because the bank issuing the credit card has a much lower risk compared to conventional credit cards. In fact there is no risk for the bank as you as a customer can only spend as much money as you have transferred onto your prepaid credit card, therefore there is no credit risk for the bank.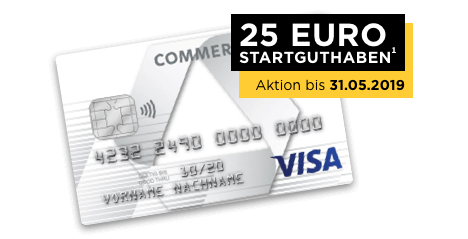 In our bank account Germany overview we have already presented the Commerzbank bank account to you. Commerzbank has lately launched a VISA prepaid credit card that is free of charge in the first year (afterwards 39.90 EUR/year) and comes with a bonus of 25 EUR. In order to get the 25 EUR bonus you just have to agree to receive news from Commerzbank via e-mail and telephone. Hence this credit card is the perfect choice when you're looking for a prepaid credit card in Germany. You will get the card within three working days after applying for it and there is no creditworthiness check performed. Here are the conditions in a nutshell:
25 EUR bonus and no annual fee in the first year (afterwards 39.90 EUR/year)
No creditworthiness check (i.e. no SCHUFA check)
Fast availability – get your card within three working days
No free cash withdrawal (1.95% / min. 5.98 €) and foreign exchange fees (1.75%)
Credit Card Germany Overview
Check out our comparison of the best German credit cards
---
Disclaimer: This post contains affiliate links, meaning I earn a commission if you use those links.