Hanseatic Bank GenialCard VISA – one of the best credit cards on the German market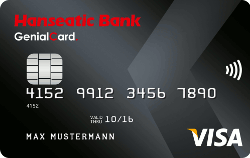 Hanseatic Bank has recently improved the conditions of their GenialCard VISA credit card. This is now definitely one of the best credit card offerings on the German market! There is no annual fee for the credit card nor any charges for withdrawing cash from ATMs and there are also no foreign exchange fees (e.g. for non-Euro payments). Furthermore you have the possibility to have the credit card balance deducted from your bank account automatically on a monthly basis. Hence you won't run into problems because you have forgotten to balance out our credit card account. Another nice feature is that you can use Apple Pay with the GenialCard and of course the card comes with contactless payment.
Here are the conditions of the GenialCard VISA credit card at a glance:
Completely free of charge – no monthly or annual fees
No foreign transaction fees – pay in any currency without paying exchange fees
Cash withdrawals free of charge
Automatic deduction of monthly bill from bank account
Contactless payment & Apple Pay supported

Credit Card Germany Overview
Check out our comparison of the best German credit cards
---
Disclaimer: This post contains affiliate links, meaning I earn a commission if you use those links.