Doing good with the new awa 7 Visa card
Welcome to the newest member on the German credit card market… awa7! The awa7 Visa card was launched only a few weeks ago and comes with a some nice features. Furthermore you can do good by using the awa7 credit card as one tree is planted for every 100 EUR you spend with the card. The card is therefore a perfect match as it combines a good value for money with sustainability. So let's have a look at the details.
The awa7 credit card – the details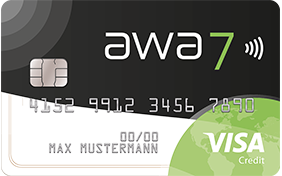 The awa7 Visa credit card is completely free of charge (i.e. no monthly or annual fees) and there are no foreign exchange fees (e.g. if you pay in dollar). In addition, cash withdrawals are free of charge. The card supports both Apple Pay and Google pay and comes with flexible repayment options. You can either pay in monthly installments (i.e. you pay a partial amount on a monthly basis) or balance out your monthly bill in one go. When ordering the awa7 credit card you can apply for a an immediate credit of up to 2,500 EUR. The credit is interest-free when you pay back the money within the first three months after ordering the card.
As mentioned beforehand, you can also do good with the card. For every 100 EUR you spend with the card, awa7 plants one tree. For planting the trees, awa7 is partnering with the renowned reforestation organisation Eden Reforestation Projects.
By the way: The awa7 Visa card is issued by Hanseatic Bank, the same bank that also offers the GenialCard. Check out our credit card comparison for more details on the Hanseatic GenialCard.
The awa7 Visa card at a glance
Completely free of charge – no monthly or annual fees
No foreign transaction fees – pay in any currency without paying exchange fees
Cash withdrawals free of charge
Flexible repayment options – one-off payment or monthly installments
Plant one tree for every 100 EUR you spend
Apple Pay & Google Pay supported
Credit Card Germany Overview
Check out our comparison of the best German credit cards
---
Disclaimer: This post contains affiliate links, meaning I earn a commission if you use those links.