Imprint / Impressum:
germanymore.de is a product of Keonda GmbH / germanymore.de ist ein Angebot der Keonda GmbH
This website consists of partial offers, which are the responsibility of different providers. / Diese Website besteht aus Teilangeboten, die von unterschiedlichen Anbietern verantwortet werden.
1. Responsible according to §5 TMG for all contents, if no other responsible is indicated in the following / Verantwortlicher gemäß §5 TMG für alle Inhalte, sofern im Folgenden kein abweichender Verantwortlicher angegeben ist: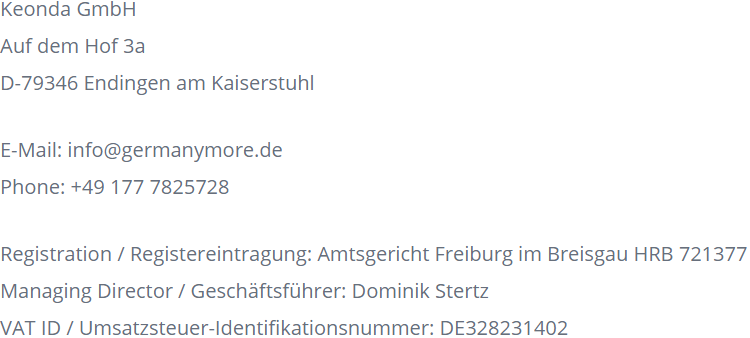 2. Responsible according to §5 TMG for the following comparison calculators: banking products, personal liability insurance, life insurance, dental insurance / Verantwortlicher gemäß §5 TMG für die folgenden Vergleichsrechner: Bankprodukte, Privathaftpflichtversicherung, Risikolebensversicherung, Zahnzusatzversicherung:
Die Einbindung der aufgezählten Vergleichsrechner erfolgt als Tippgeber. Diese sind ein Angebot der financeAds GmbH & Co. KG, Karlstraße 9, 90403 Nürnberg (Tel. 0911 148783-0, Fax 0911 148783-29, E-Mail contact.de@financeads.net). Registergericht Amtsgericht Nürnberg HRA 14415, USt.-IdNr. DE251399704. Vertreten durch die persönlich haftende Gesellschafterin: financeDigital GmbH, Karlstraße 9, 90403 Nürnberg, Registergericht Amtsgericht Nürnberg HRB 23019, diese vertreten durch den Geschäftsführer Ralf Fischer.
Erlaubnis nach §34c Abs. 1 Gewerbeordnung, Aufsichtsbehörde: Stadt Nürnberg, Ordnungsamt, Innerer Laufer Platz 3, 90403 Nürnberg
Erlaubnis nach §34d GewO: Die financeAds GmbH & Co. KG ist Versicherungsmakler mit Erlaubnispflicht nach § 34d Abs. 1 GewO. Registrierungsnummer: D-XQLT-GQ4ZP-78. IHK für München & Oberbayern, Balanstr. 55-59, 81541 München. Die berufsrechtlichen Regelungen finden Sie unter §34 d GewO, §§59 ? 68 VVG, VersVermV, abrufbar bei www.gesetze-im-internet.de. Versicherungsvermittlerregister: www.vermittlerregister.info.
3. CHECK24.net Partnerprogramm
Wir nehmen am CHECK24.net Partnerprogramm teil. Auf unseren Seiten werden iFrame-Buchungsmasken und andere Werbemittel eingebunden, an denen wir über Transaktionen, zum Beispiel durch Leads und Sales, eine Werbekostenerstattung erhalten können.
Weitere Informationen zur Datennutzung durch CHECK24.net erhalten Sie in der Datenschutzerklärung von CHECK24.net.
Picture credits / Bildnachweise
www.pexels.com
www.pixabay.com
www.splitshire.com
stock.adobe.com: ©JohnKwan #20560702, ©Rostislav Sedlacek #98157861, ©Karen Roach #142241874
© manfredxy 143850687 / 123RF.com
Private pictures / Private Bilder