Personal Loan Germany – best providers in comparison
Last update: 26 February 2023
Low-cost personal loans for every need
Financing the wedding reception, furnishing the apartment, replacing the broken washing machine, or buying a new car: Whatever you need the money for – a personal loan Germany can be used flexibly. You can fulfill long-awaited wishes or compensate for financial bottlenecks.
But what exactly is a personal loan and what do borrowers need to consider? germanymore provides information and helps – thanks to a no-obligation personal loan comparison – to find the right loan for your own needs.
Personal Loan Comparison Calculator for Germany
FINANZCHECK.de makes it easy for your to compare personal loan providers in Germany that offer good value and are easy to deal with. Just enter the loan amount (Wunschbetrag), the desired duration of the credit (Laufzeit), specify the purpose for the credit (Verwendungszweck) and compare the providers (Kreditvergleich starten).
You will then see a list of loan providers in Germany and their conditions, including borrowing rate (Sollzins), effective rate (Effektivzins) and most importantly the monthly rate you have to pay (Monatliche Rate). Check it out with the Germany personal loan calculator!
Further Details on Personal Loans:
Minimum period for repayment: 6 months
Maximum period for repayment: 120 months
Maximum Annual Percentage Rate (APR): 19.90%
Representative example of the total cost of a loan: Loan period 60 months (60 installments), net loan amount 10,000 EUR, APR 4.24%, fixed borrowing rate per year 4.16%, monthly installment 184.89 EUR, total amount 11,093.23 EUR.
What is a personal loan?
A personal loan is an installment loan granted to a private person. This form of credit comes in two varieties:
1. The lender is a private person or a group of private persons
So-called peer-to-peer loans (P2P loans) are granted by private individuals. For this purpose, there are special intermediary platforms where loan seekers can submit a request. Private investors then decide whether to make the money available. This category also includes loans given by relatives or friends.
2. The lender is a bank
In this type of personal loan, the lender is a bank. Loan seekers can apply for a personal loan online or at a branch. The financial institution then decides whether to approve it.
The personal loan amount and term are based on the wishes of the borrower and are usually set out in the loan agreement. Repayment is made in regular installments consisting of interest and principal. What you spend the money on in Germany is up to you.
Personal loan comparison: In 3 steps to a personal loan in Germany
Step 1: Compare!
The market for installment loans is huge and the offers differ not only in the interest rate. To find the cheapest loan in Germany, use the non-binding loan comparison on this page. Simply enter the desired amount, the term, and the intended use. For a meaningful comparison still, some personal information is necessary. You will then receive selected offers based on your information.
Step 2: Select an offer!
Now select the personal loan that appeals to you most and submit the application directly online.
When comparing personal loans, pay attention to rate details such as unscheduled repayments – an unscheduled payment to repay the loan. The effective interest rate is also important. It contains all fees and additional costs and thus indicates the total cost of the loan in percent.
Step 3: Receive money!
After verifying your identity and the required documents, you will receive your personal loan agreement from the provider or bank via email. Once you have signed it, the bank will transfer the money to your account.
How does the legitimation for personal loans work in Germany?
For a bank to know who the borrower is, it needs proof of identity. There are two ways to do this:
1. The VideoIdent procedure
Another form of legitimation is possible from home – using a computer, tablet, or cell phone. In this way, borrowers can prove their identity in just a few minutes.
2. The PostIdent procedure
At a Deutsche Post AG branch, an employee performs the legitimation for the bank. He uses the identity card or passport presented to document the personal details. Now the customer's signature is missing and the legitimation is already on its way to the bank by mail.
Frequently asked questions for your personal loan in Germany
Can I obtain a personal loan despite a SCHUFA entry?
Under certain circumstances, banks also grant personal loans to people with a SCHUFA entry. If you have paid your bills on time in the past, this can increase your chances.
What documents do I need for a personal loan?
When applying for a loan, the bank usually asks for at least the last three salary statements and a self-disclosure. It also needs proof of identity with a valid identification document and proof of creditworthiness. A pension certificate or a guarantee may also be required. If the personal loan is intended to pay off other, existing loans, the bank will also want proof for these.
How do I calculate the monthly installment of the personal loan?
Three variables change the repayment and interest rate of the private loan: the loan amount, the term, and the interest rate. The bank calculates the rate so that at the end of the term both the agreed interest and the personal loan amount are paid in full. This means that the longer the term, the smaller the rate. The higher the sum, the higher the rate.
If the borrower chooses a term of 48 months for a loan amount of 10,000 euros and an interest rate of 2%, the loan installment is around 217 euros per month. For 50 months, the rate is reduced to about 209 euros and for 62 months to about 170 euros.
How much personal loan can I afford?
It is worthwhile to compare your individual income and expenses. As a result, you get what is left over from your salary each month. This remaining amount represents the possible amount of an installment. With the personal loan comparison, you can quickly find out what rate is necessary for your desired loan in Germany.
7 typical credit application mistakes and how to avoid them
Mistakes can quickly creep in when applying for a personal or private loan. Good preparation, no hasty decisions, and knowing your credit rating is important.
Mistake 1 – Not knowing one's credit rating
Creditworthiness plays an enormously important role in the granting of personal loans. It determines not only whether you get a loan, but also at what conditions. The better your credit rating (also called creditworthiness), the higher the probability of personal loan approval and the approval of low interest rates. If you are well prepared for credit negotiations and have already actively checked and improved your creditworthiness, you will have a clear advantage. Have a look at this article on how to check your Schufa score in Germany.
Mistake 2 – Not comparing
There are countless online loan comparison calculators that allow you to compare the best offers from different providers in Germany. These include not only banks and lenders, but also other institutions such as electricity companies, mobile phone providers or the like. Not informing yourself about different options can cost you money.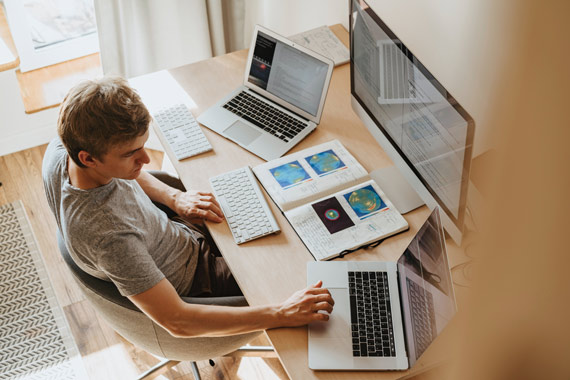 Mistake 3 – Misjudge the financial situation
A personal loan in Germany and its repayment can be a lengthy story, especially if you want to finance something big like a property. So a detailed and, above all, realistic financial plan is essential. Create a budget that lists income and expenses, plan the repayment and don't overextend yourself. 
Mistake 4 – Only pay attention to a favorable interest rate
Low interest rates and fixed interest rates are attractive, that's for sure. However, a typical mistake when applying for a personal loan in Germany can be not finding out about unscheduled repayment options and thus being tied to a loan for an unnecessarily long time. Since the goal is always a quick repayment, you always benefit from unscheduled repayment options. You can use surprising surpluses of money such as Christmas or vacation bonuses, inheritance or tax refunds to pay off the loan further or to repay it completely. Conversely, with some loans it is possible to take a break from installments if the financial situation is difficult.
Mistake 5 – Not specifying a purpose
In fact, specifying a specific purpose can increase the chance of getting the personal loan and more favorable conditions. In this way, you signal to the bank exactly what the money will be used for. Last but not least, real estate or vehicles can serve as collateral for the bank and thus act as double security for the lender.
Mistake 6 – Taking out loans alone
Even those who are not married can take out loans as a couple. And it really pays off! With two earning borrowers, the bank is doubly secured, which increases the probability of acceptance and the chance of better conditions. In this case, it is important that the second borrower also has a regular income, which could be seized in an emergency.
Mistake 7 – Do not insist on condition requests
Before a bank agrees to grant you a personal loan, it checks all your data again and obtains a detailed credit report about you from the credit agency. When negotiating with different banks, you should always insist on the note "condition inquiry" (KK). This is because – in contrast to the credit inquiry – these do not affect your creditworthiness, i.e. they have no effect on your credit rating. So it's best to avoid this mistake when applying for a loan and make sure that the respective lenders do not make any credit inquiries with the credit agency. 
---
Summary – Personal Loan Germany
Of course there are many personal loan providers on the market, but we hope this article gives you a good overview about the topic personal loan in Germany. Here is a quick summary of the three steps to get a personal loan in Germany to find the best personal loan interest rates in Germany:
---
Disclaimer: This post contains affiliate links, meaning I earn a commission if you use those links.