Credit, Debit, Charge or Revolving – The Ultimate Guide to Credit Cards in Germany
Is a debit card a credit card? And what distinguishes these cards from the Girocard? We clarify the most important questions about payment and credit cards in Germany.
In your wallet, you probably have at least one debit card or credit card in addition to a Girocard. But do you know exactly what these different cards can do, and what they are not suitable for? We explain the differences between the payment cards like debit, credit, charge and revolving and summarize what you need each card for.
Girocard: Formerly Known as the EC Card
Although the EC card was renamed "Girocard" years ago, many people still refer to it by its former name. The Girocard is available at banks where you also have a checking account. This card can be used to withdraw cash from your account at ATMs. This may incur costs. In most cases, cash withdrawals are free of charge as long as the ATM belongs to your banking association – for example, if you are a savings bank customer and withdraw money from a savings bank. In the case of ATMs from other providers, you will see what the cost of withdrawing money would be before you make the withdrawal. The Girocard is only available in Germany.
Paying by Girocard
The Girocard can often be used abroad if the card has a V-Pay or Maestro logo. Then, the Girocards use the system of the credit card issuers Visa (V-Pay) or Mastercard (Maestro). If your card does not have one of these logos, it can only be used in Germany. If you get money at an ATM or pay with the Girocard card in a store, the amounts are usually debited from your checking account on the same day, unlike credit cards in Germany. If you do not have any credit on the account, you can only pay with a Girocard if the current account has an overdraft facility (colloquially known as "Dispo"). This means that you can overdraw your account and then pay interest on the money advanced by the bank. The Girocard is not particularly suitable for online shopping because many online stores do not accept these cards. However, the Girocard can be deposited with payment services such as PayPal, so it can be used for such online purchases.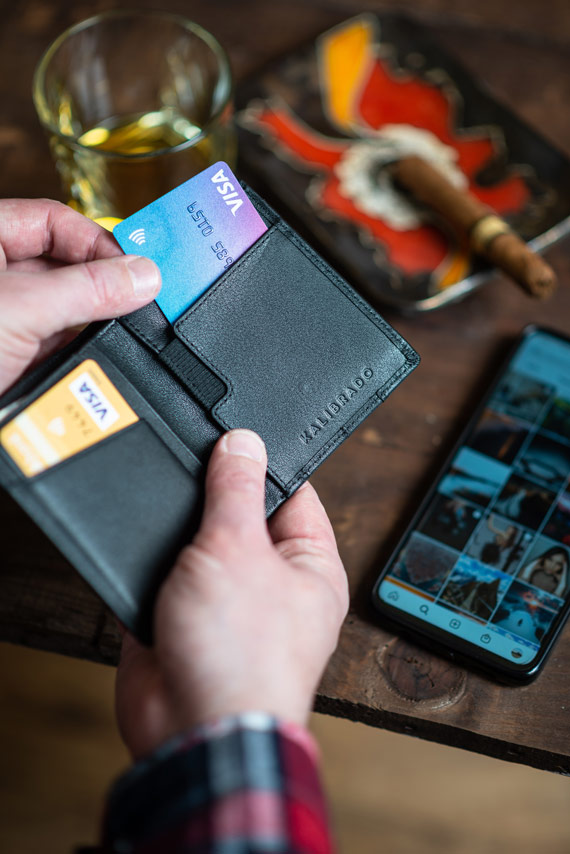 Debit card: Looks Like a Credit Card
The debit card bears a logo of the credit card providers Visa or Mastercard, which is why many people think it is a credit card. But just like a checking card, the debit card debits funds immediately from your checking account. By the way, the English word "debit" means "debit". With debit cards, you have full control over costs and will not be surprised by a large sum at the end of the month, as can happen with credit cards. This is because with credit cards, the provider only debits a total amount from your checking account once a month. The debit card therefore allows you a to pay by card with an immediate withdraw from your bank account. So, if you're wondering whether the Visa or Mastercard in your wallet is a debit card or a credit card, just check to see if money is debited from your checking account monthly or immediately.
Paying with Debit Cards
Debit cards are a great way to shop online, as many online stores accept Visa and Mastercard, like other credit cards in Germany. It's also possible to pay with debit cards in many physical stores, and most do so via contactless card payments. While paying on the spot doesn't cost anything, however, it can cost something to withdraw money from an ATM with debit cards. With some cards, this only applies after a certain number of withdrawals per month. With others, it's free in Germany or throughout the eurozone. Be sure to take a look at the card and account terms and conditions to avoid unnecessary charges. By the way, the fees of the ATM operator are often added to the fees of the card provider – this can be quite expensive. Unlike the Girocard, debit cards can generally also be used abroad for payments and cash withdrawals. However, there are a few things that only work with credit cards and not with debit cards, which we will explain below.
Debit Cards for Rental Cars and Vacations?
With a credit card, it's easy to reserve larger amounts of money for specific purposes. For example, car rental companies have direct assurance that the customer is solvent if the car is returned with a dent. Theoretically, such a deposit can also be reserved via a debit card if the checking account has enough credit or a sufficient overdraft facility. However, many rental car providers do not accept debit cards at all, only credit cards. This can also be the case for vacation trips. For such cases, you need a credit card – these are available as charge or revolving cards.
Rising Popularity for Charge and Revolving Cards in Germany
What is a Charge Credit Card?
If the credit card provider charges the entire amount due from the current account once a month on a fixed date, this is called a charge credit card. The English term "charge" means "fee". In this case, the provider grants the customer an interest-free credit card in Germany for a maximum of one month. As this is interest-free credit, this usually does not cost any additional fees. However, many charge cards are not free of charge like debit cards. Instead, the user often pays a monthly credit card fee to the bank. In addition, the checking account must be covered at the time of the charge. If this is not the case, costs can arise due to reminder fees.
Those who have an overdraft facility for their current account then pay interest to the bank if the account is overdrawn. This is only until the current account is balanced again. This means that the account must no longer be in debt and the account balance must be at least zero euros. Incidentally, credit cards in Germany can be used not only to make payments but also to withdraw money. As with the debit card, it is important to find out in advance what costs you will incur. Some providers charge a flat rate of 5 euros per withdrawal.
Anyone interested in a credit card will quickly come across the different types of credit cards that credit card providers, such as Visa or Mastercard, issue. There is the classic credit card, the charge card, the debit card, revolving card and the prepaid card. Differences between the different variants can be found mainly in the type of billing.
How a Charge Card is Billed
Credit institutions issue the charge card – like a regular credit card – with its own credit line. This means that holders can use the card for payments up until the day of settlement.
The bank invoices the card turnover once a month in total. The entire credit amount is then debited via direct debit from the specified checking account, also known as the reference account.
Important: repayment via installments, as with a credit card, is not possible.
Interest-Free Borrowing with the Charge Card
Since payment in installments is not possible, no debit interest is charged with a charge card. Until the settlement, banks grant holders of a charge card an interest-free borrowing. In addition to the free credit, this results in another advantage: the risk of falling into a debt trap is significantly lower with a charge card than with a credit card. This is because credit card holders pay back the card turnover in total at the end of the month before they can use up the credit line again the next month.
With an installment credit card, the old debt has not yet been paid off, so the cardholder may already be taking on new debt. The loan without interest and the low risk of debt make credit cards attractive to many. The credit card type offers a compromise between financial flexibility and security.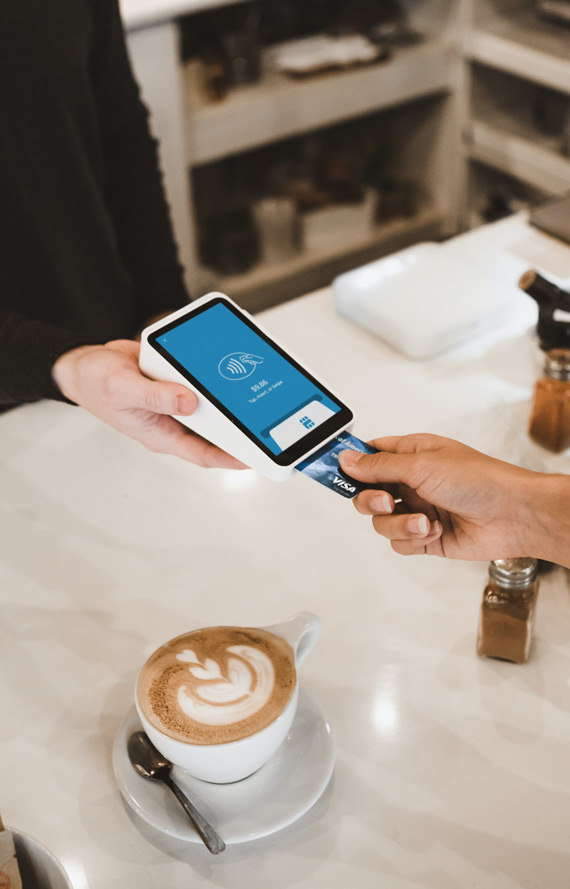 Individual Credit Limit for Creditworthiness
As with all credit cards in Germany with a credit limit, the amount of the credit limit depends on the wishes of the applicant and on the bank. The bank determines the credit limit for a customer primarily according to the customer's creditworthiness. The creditworthiness of an applicant is usually checked by the bank via a Schufa query.
People who are not creditworthy in the eyes of the bank hardly have a chance of getting a credit card with a credit limit. However, for students or other groups of people with a low income, banks have created special credit card offers, where interested parties with a charge card can have a credit line, which is set accordingly low. For example, this Barclaycard Visa is a credit card available for students.
Are there Charge Credit Cards in Germany Without a Credit Check?
Prepaid credit cards are the only credit cards that can be applied for without a credit check. Since banks issue a loan with a charge card, a Schufa check is necessary in any case. Thereby, the creditworthiness decides on the one hand whether interested parties receive a creditworthy card at all, and on the other hand how high the credit line will be.
The amount of the credit line can be adjusted at short notice. If customers need a higher credit limit for a short period, for example to book a trip, this can usually be achieved. Similarly, changes in the creditworthiness of the credit card holder can lead to the credit limit being adjusted downwards accordingly.
What does the Charge Credit Card Cost?
Many charge credit cards are free and include a checking account. "Free" here means that providers waive an annual fee. Fees for using the card, for example for cash withdrawals or card use abroad, are not excluded. In terms of costs, charge credit cards have the advantage over classic credit cards that no interest is charged.
The annual fee for charge credit cards is between 10 and 30 euros for regular cards. Credit cards that come from the gold or platinum range and bring additional benefits can be significantly more expensive.
The Daily Charge Card – a Mixture of a Debit and Charge Card
The Daily Charge Card is a good alternative for prospective customers who want to have even more cost control. It is a hybrid of the debit and charge card. Holders of the Daily Charge Card can load the credit card account with a balance, which is first debited when card payments are made. In addition to the credit on the credit card account, savings on the specified checking account can serve as a credit. Settlement occurs shortly after a payment, as with a debit card. Unlike a debit card, however, Daily Charge Card holders have their own credit limit. If the credit balance is empty, the credit card holder can fall back on it. As with a regular charge card, the credit taken out of the Daily Charge Card is settled monthly, in total, by direct debit via the specified checking account. Until then, the credit is interest-free.
 What is a Revolving Credit Card?
With a revolving credit card, the provider also debits an amount from your checking account once a month. However, this is usually not the full amount that was spent with the credit card in the previous month. Customers can also repay only part of the bill – with the so-called installment payment. The credit card provider in Germany then charges interest on the unpaid amount. Customers therefore pay for the provider to lend them the money. These cards usually do not cost a monthly fee.
Caution: Debt Trap with Installment Payments
Users decide for themselves how much of their credit card bill they want to pay each month. There is usually a choice between a fixed amount (i.e. 100 euros every month) and a percentage (i.e. 3 percent sum every month). This can cause customers to lose track of their spending and accumulate debts. Those who are convinced by the conditions of a revolving card should definitely set the amount that they want to pay every month to 100 percent. Then the credit card provider will not charge any interest.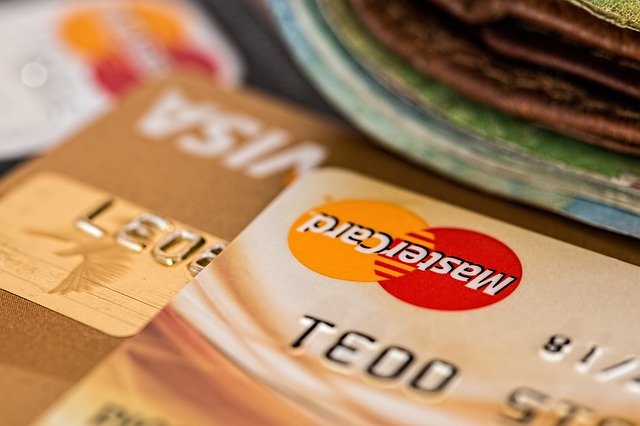 What Card Types are available in Germany?
Which Credit Card Company is the Best for you in Germany?
Behind the credit cards in Germany and worldwide are not only your bank, but also credit card companies like Mastercard or Visa. They provide the infrastructure for payment transactions and set rules of conduct for banks and merchants. As a rule, they have nothing to do with credit card users. In case of problems with the card, you always have to contact your bank. The fees for the card are set by the card-issuing bank, not the credit card company.
There is hardly any difference between Mastercard and Visa for consumers; both are accepted worldwide. However, there may be a preference for one of the brands in individual countries. If you travel abroad a lot, find out about this beforehand.
The situation is different with companies like American Express (Amex) and Diners Club. They set the prices themselves and are also your contact in case of problems. It is important for you to understand that these cards are less often accepted in stores or restaurants than Mastercard and Visa. This is partly because they are often more expensive for merchants.
Affinity Card
Affinity in German means "Affinität", and in this case means "connectedness" – "Verbundenheit". The cards are mostly issued by the banks of large sports clubs, other clubs or companies. The bank's logo is relatively small on the card, while the logo of the respective "issuer" is clear and large. Those who own an affinity card show their attachment to the issuer by using it.
Co-Branding Card
Co-branding cards are also issued by banking or financial institutions, but again, the bank's logo is only very small on the card. Co-branding cards are issued by companies such as ADAC or by airlines. Those who have such a card have various advantages, such as collecting points, or discounts may be given when traveling, etc.
The most popular example of co-branding is the Lufthansa credit card, which can be used to collect air miles. In this case, every time you pay for a flight, you receive miles that you can later be exchanged for other attractive rewards or even flights. There are also other companies that offer co-branding cards to their consumers. Car rental companies, car manufacturers or retailers from the food industry issue their own credit cards with their logo in cooperation with their banks or the credit card companies. These cards have a certain individual charm because these cards are naturally intended to be applied for by customers and by anyone who can identify with them.
Cardholders are often rewarded by gaining additional benefits. What these benefits are exactly depends on the respective issuing company. In most cases, they are additional benefits designed to strongly associate the company and highlight its products or services.
Co-branded credit cards from various car manufacturers grant an insurance service, among other benefits. Thus, anyone who has a car breakdown can contact the car manufacturer, who will ensure that the car journey can continue as soon as possible.
Is there a Free Credit Card?
Free credit cards are no longer a rarity these days and therefore they are also offered in a large variety. Most banking and financial institutions offer them without an annual fee and only with low debit interest. This credit card comparison brings clarity and shows all cards without annual fee in a detailed list of results.
Most credit card owners pay too much for their credit card, which they received from their house bank. In addition to the annual fee, there are usually fees for using the card as well as credit interest. That's where the free credit card offers a practical and cost-effective alternative, where you don't have to forego the functionality of a credit card.
Important Criteria for Credit Cards in Germany
Credit cards differ not only in terms of their color and possible insurance benefits, but also in terms of repayment of the credit line used. Therefore, you should think carefully about which repayment system you choose and take this criterion into account when comparing.
In the case of standard credit cards (charge), the transactions are collected on the credit card account and debited from the current account at the end of the month. Here, no interest is charged for the credit line used. With revolving cards, the sales are also collected, but the amount does not have to be paid all at once at the end of the month, but instead can be paid in installments. Special payments are also possible. As we found out in our credit card check, attention must always be paid to the debit interest, which can be between 12 to 14 percent. It can be useful to think about an installment loan, which is much cheaper.
Fees of Credit Cards in Germany
Fees are also an important criterion when comparing credit cards. Among the most important are the annual fees, which are calculated by the bank at the time of issuance and are waived for a free credit card.
However, in addition to the annual fee, there may be other costs such as fees for cash withdrawals. Many banks charge a fixed withdrawal amount for cash from ATMs, which can range from five to ten euros per withdrawal. Cardholders who withdraw money frequently should look for a card that includes free withdrawals. Credit cards from direct banks offer this.
Above all, attention should be paid to the fees for using the card abroad. This is because while payments within Europe can be processed free of charge, some banks charge up to three percent of the card turnover for payments in non-European countries.
Premium Credit Cards
Special credit cards require special requirements and conditions, but also grant special benefits. There is no such thing as a free premium credit card on the market. They are aimed at a very exclusive clientele and are issued as  black and platinum credit cards. Premium credit cards are usually associated with a special service and prestige, and differ in terms of access conditions and tiered services. The wealthy, millionaires and billionaires today no longer have a gold credit card, but a black credit card.
Gold Credit Card
The standard credit cards of the major providers Mastercard, VISA and American Express are called Classic Cards. They offer worldwide cashless payments and cash withdrawals. In addition, the gold card was developed with a special design and additional services.
This gold card is available to anyone with a certain level of income and is no longer reserved for an exclusive clientele. A gold credit card comes with several additional benefits such as greater insurance coverage, or it can offer bonus programs from companies that work with the issuing credit card provider. These benefits come at a price, in the form of a high annual fee. But in contrast to that, this Mastercard Gold comes without fees.
Platinum Credit Card
In the next tier of credit cards is the platinum card. Again, many additional benefits and insurances are offered, including access to exclusive events. They are issued by American Express, VISA and Mastercard. Customers benefit with an increased cash limit and a larger spending limit, perks and special offers included (hotels, flights, car rentals). Obtaining a platinum credit card is usually tied to a certain minimum income.
Black Credit Card
The Black Credit Card is offered to customers and cannot be applied for. This card is only given to wealthy customers, mostly existing customers with high turnover. They are called Centurion Card by Amex, Visa Infinite by VISA or World Signia by Mastercard. High fees are charged per year, as well as often an initiation fee. In Germany, it is estimated that only around 2,000 people have such a card.
However, the services offered by a black credit card are unique. For example, services available worldwide, such as access to V.I.P. airport lounges, front-row tickets to concerts or participation in events, can be claimed. Every Centurion cardholder, for example, has a personal concierge service to take care of all their needs.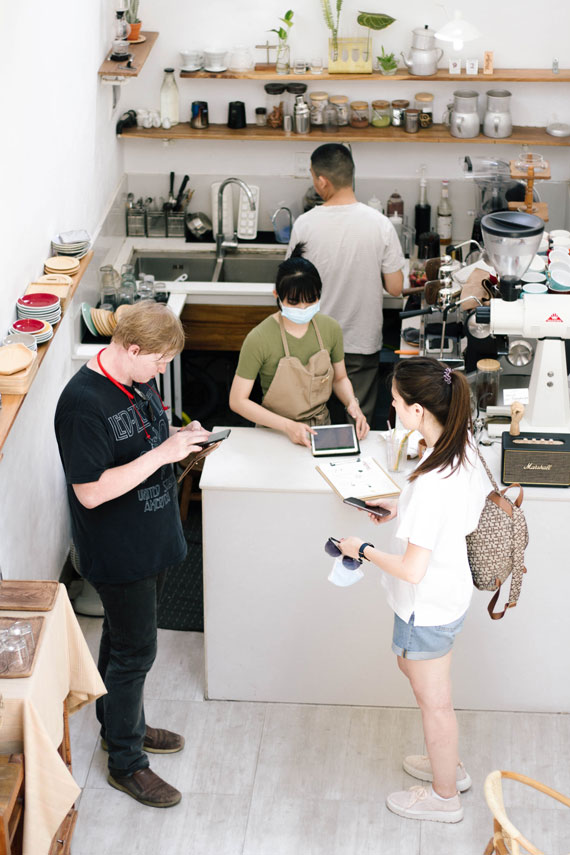 Credit Cards in Germany – With or Without Account
Changing accounts is always a nuisance and often cumbersome and time-consuming. That's why it's extremely convenient that numerous credit cards are also available without a new checking account. Even if you already have an account and the credit card at the house bank is too expensive, you can still apply for a new credit card. As a rule, it is quite sufficient if a debit account is deposited.
You can find the free credit cards in Germany that do not require a new checking account. The credit card statement will then be made through your existing current account. However, you can also opt for a credit card as a complete package – current account and card. Included in the offers are a no-fee, free checking account (without conditions for certain cash inflow) and a free credit card. This way you don't need to change banks or accounts and can keep your bank account. You can then use the new free account as a secondary account.
Advantages – Apply for Credit Card with Current Account
Best overview of account and credit card
New customer bonuses for new account and card
Partner cards also possible free of charge
Higher credit limit at the beginning
Free credit cards in Germany with worldwide cash service
Advantages – Apply for a Credit Card without a Current Account
Large selection of charge, prepaid and classic credit cards in Germany
No change of account necessary
Application also possible if the house bank does not offer a card without annual fee
Many offers of credit cards with additional services
Advantages of a credit card
There are very many people who are afraid to use a credit card because they think that using a credit card will quickly make them lose track of their purchases and finances. Perhaps these fears may be justified, but they quickly evaporate when you know that the detailed card statements provide the best overview and when you know exactly the advantages of a credit card.
With a credit card it is much easier to make spontaneous purchases in stores or on the internet, or to pay bills. Here, time and work is saved and you no longer need to get cash at the bank, to which you have to walk or drive. In our credit card check, we shopped on the internet and found that you are much more flexible with a credit card, because many merchants do not offer direct debit or a bank transfer.
Also, when traveling abroad, it is convenient to pay with a card. Firstly, because you don't have to carry cash around, and secondly, because it eliminates the sometimes complicated conversion of foreign currency. In addition, credit cards in Germany have many more acceptance points, even worldwide. For VISA and Mastercard, there are over 30 million points of acceptance worldwide, while the number of acceptance points for normal EC cards is significantly lower.
A credit card is also the most common payment option when renting a car. It is used to pay a deposit, which is returned to the payer when the car is returned. And if you want to book a vacation, a city trip or a flight, you will definitely need a credit card.
Who can Apply for a Credit Card?
In order to apply for and receive a credit card, certain requirements must be met. Among others, this is primarily that the applicant for a credit card is a resident of Germany, and that the applicant is of legal age.
Residence
If you want to apply for a credit card in Germany, you must also have your residence in Germany for liability reasons. The situation is different abroad. Here, too, you can apply for a credit card if you have your residence in the respective country. It is also possible to apply to the major credit card companies, who have a branch in almost all countries.
Age of Majority
It goes without saying that anyone who wants to apply for a credit card should be over 18 years of age. According to German law, consumers are legally competent if they are of legal age. Credit cards for teenagers are also offered – as prepaid cards with reloadable credit. Should young people under 18 pay with a credit card, it could happen that these payments have to be declared invalid.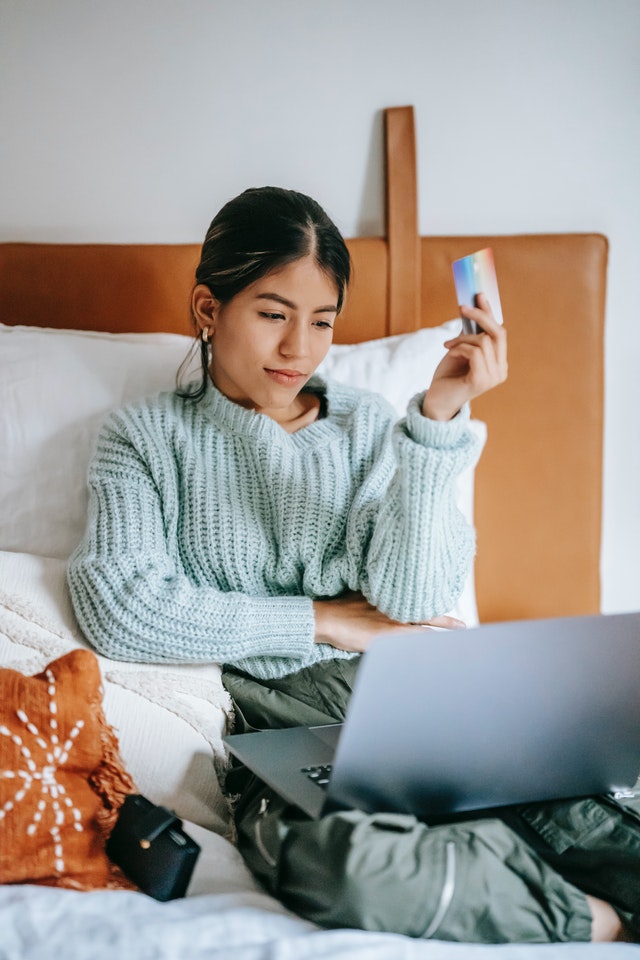 Applying for a Credit Card – This is How it Works
Applying for a credit card online takes just a few small steps. No one has to visit their bank, look for a bank or spend hours on the phone. The application can be made conveniently at home from a computer, laptop, tablet or cell phone. The provider – bank or credit institution – needs some personal information from you and processes it in real time. In most cases, a decision is made directly on the application and the result is communicated.
The application for a credit card should be filled out as best as possible when all considerations have been completed and all results of a credit card comparison have been included. If the right card is found, then simply click on the provider and you will be redirected to the appropriate page.
If you have decided on a credit card with a granted credit line, you must give permission for a Schufa query after entering the personal data. This inquiry is omitted when applying for a prepaid card. In many cases, a reference account is also required for the direct debit collection of the outstanding credit card bill. This can be a new current account that has yet to be set up, which is applied for with the credit card, or the existing account at the house bank.
PostIdent: Personal Identification
Before the application is completed and sent online, it should be printed out. Then it is time for legitimation. Every bank is obliged by law to verify the identity of a bank customer. This obligation concerns the Money Laundering Act. Therefore, it is necessary for the bank to verify your identity either via PostIdent or VideoIdent. With the PostIdent procedure, you must go to the nearest post office with a copy of the application and the PostIdent coupon printed out beforehand. There, an employee will check the data on your ID card and match it with the data on the application. Both documents (coupon and application) are then sent to the credit card provider by mail. On the Deutsche Post website you can learn more about this procedure.
VideoIdent
If you have a provider that works with VideoIdent, then you need a computer, laptop, cell phone or tablet with a webcam. Via video stream, employees of the bank or financial service provider will verify that the data on the ID shown in front of the camera matches and that it is the person who submitted a credit card application. This procedure is fast and is offered by many bank and credit card institutions in parallel to PostIdent. In this video you can learn more about the VideoIdent procedure.
Credit Card Security
Theft of a credit card is always the greatest risk of credit card misuse. In this case, however, the cardholder is fully protected. The only condition is that the theft is reported immediately and that the credit card is blocked. With the card blocked, nothing can happen to the holder, even if payments have already been made with the stolen card. The credit card holder is liable in most cases (with a deductible) of around 100 euros with most banking and financial institutions. Nevertheless, due diligence should be exercised when handling the card. Because if this is violated, banks can assume negligence or intent, and conclude to limit or even deny liability.
Conclusion
The advantages of a credit card cannot be overlooked. If you are looking for a free credit card, like the Barclay Card or the awa7 Visa Card, with no annual fee, and always pay the monthly bills immediately, you will hardly incur any costs. The credit card market has changed so much in recent years that consumers now have an unprecedented choice of different credit cards in Germany and types. In addition, no one has to apply for a credit card in Germany at a bank anymore. Everyone can take alternative cards with online application. A credit card comparison also offers the chance to quickly recognize the large amount of offers in a list, in order to then pick out the most suitable credit card for themselves.
---
Disclaimer: This post contains affiliate links, meaning I earn a commission if you use those links.